Trade taster course gives insight into rural careers
Hands on learning with horses, cattle and growing herbs in hothouses is proving a winner in engaging young people to consider careers in rural industries.
Fifteen students from secondary schools from across west Gippsland have been getting a feel for careers in equine, agriculture and horticulture with a new Trade Pathways Program launched by the West Gippsland Trade Training Alliance (WGTTA) and Community College Gippsland (CCG).
'Herbs for Horses' is one of the Trade Pathways Programs on offer with students attending Community College Gippsland one day a week to work with horses and cattle, learn about feed, nutrition, and how to grow herbs and plants for specific animals.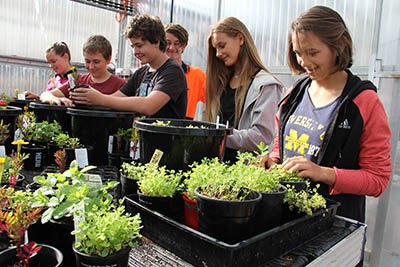 Pictured from left are students Alyssa Roylance, Lachlan Crack, Dylan Slow, Deacon Wallace, Madi Wyntjes and Kayla Laity checking their plants in Community College Gippsland's hothouse.
Community College Gippsland Rural Studies Program leader, Gillian Williamson, said students were given opportunities to see and do as much as possible across rural industries.
"They've spent time at our West Gippsland Harness Training Centre learning about horse feed and nutrition. They've also been involved with ear tagging and feed for cattle at our campus farm."
"The knowledge they gained was then applied to a project in horticulture where they've been growing herbs in our hot houses from seeds and seedlings for horses and cattle."
"The students have grown alfalfa, oats, basil, mint and a range of flowers."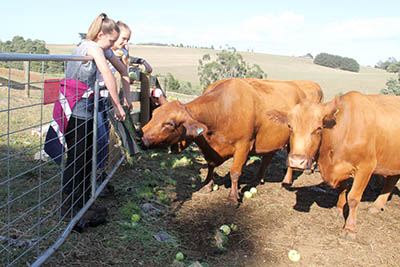 Pictured are Alyssa Roylance and Madi Wyntjes feeding the cattle.
Student Alyssa Roylance said a highlight for her was feeding the oats they've grown to the animals.
Josh Vosper said he enjoyed the experience so much he is now growing oats at home and trialling it to feed his chickens and other farm animals.
Community College Gippsland's Warragul campus is set on a 20 acre farm at Warragul and offers hothouses, stockyards and farm equipment for students to learn real farm practices under supervision.
WGTTA Manager Rod Dunlop said the Trade Pathways Program initiative has generated a lot of interest locally and around the state.
"Student and parent feedback has been very positive with more students wanting to be involved than the available spaces."
The Herbs for Horses program will take fifteen Year 9 and 10 students each term. Students can then go on to do accredited training in a Vet in Schools course as part of their senior secondary studies as a pathway to an apprenticeship or further study.
For more information on Community College Gippsland go to: www.ccg.asn.au or phone 03 5622 6000.
Media Inquiries:
Sue Geals
Chief Executive Officer
Community College Gippsland (CCG) 03 5622 6000